Lifting heavy items like supplies on construction sites can be challenging. A winch gives you the chance to make the heavy lifting issue a breeze. Doing home improvements to recovering a car from a stuck situation, if you want everything from one machine, a 110V winch is your only chance.
Since 110V (same as 120V) sockets are the norm in the USA, you can use a 110V winch anywhere you want; home, shop, or car. But the question is, what is the best 110V electric winch? There are too many options in the market!
No worries, we've gone through the most promising winches of this power category and came up with the best ones today. Go through the comprehensive guide below with a list of 110v electric winch to pick your next winch that won't disappoint.
What Is The Benefit of Having 110 Volt Electric Winches?
The most significant benefit of 110V winches is it is the standard outlet output in the USA. So, you can use them where there is an outlet available.
Electrical winches are essential in different industries like construction, bulk material handling, oil and gas, marine, theater, wastewater, etc. It offers many benefits, including:
Efficient and reliable lifting heavy objects. It can be matched to any lifting application with an electric power source.
Creates a low noise while working. Improves the safety and communications on the job site
Eliminates the risk of environmental concern and hydraulic fluid risk
A wide range of sizes, designs, and configurations of electric winch is available. So, you can choose according to your requirements.
Controlling an electric winch vertically and horizontally eliminates the requirement of buying additional devices.
Electrical winches come with a longer lifespan. However, they require regular maintenance and observation, which is necessary for all devices.
Compared to hydraulic winches, electrical winches are less prone to lose pressure.
Comparison Chart: Best 110 Volt Electric Winch
Here is a comparison chart of the 110V electric winches we've selected. Go through the key specifications to find the best-suited one for your lifting task.
9 Best 110 Volt Electric Winch Reviews
Finding a 110v electric winch will be troublesome since many designs and models of electric winches are available on the market. Read our findings below and choose the best-suited one per your project needs.
1. KEEPER KAC1500 110/120V Electric Winch: Best Overall
The KEEPER KAC1500 110/120V Electric Winch is a great machine for workshop, garage, or marine operations. It is equipped with a powerful 1 HP 120V AC motor that can pull up to 1,500 lbs of weight. Therefore, it easily bears heavy objects and gets jobs done for you.
This electric winch comes with a 42' long galvanized wire rope. Ideally, the wire rope is made out of steel and coated with zinc, giving it a robust construction. Due to the coating, the steel becomes rust-resistant and moisture-proof. For this, it is an ideal choice for marine applications where the wire rope is frequently exposed to humid, damp and wet conditions.
It resists high temperatures quite effectively with its high tensile. Also, it has an impressive ability to handle bend stresses of its excellent flexibility and strong characteristics. This way, the winch withstands tough conditions.
You will never have to sweat when lifting a heavy object using this electric winch. It features free spooling with a clutch handle, giving you the flexibility to control the device as you want.
Moreover, the emergency hand crank allows you to control it virtually from any standing and minimizes the need for physical effort. Also, it includes a freewheel clutch mechanism, allowing you to change gears in a manual gearbox.
The unit's overall weight is 25.2 lbs. and has a carrying handle for convenient transport. With a compact design, you can easily store or carry it in the back of your vehicle. A 12' wired remote is available with the device, permitting you to shut off the unit during an emergency.
With the thermal overload reset feature, the motor is safe from damage during a short circuit. Furthermore, the winch is water-proof. Rainy days or wet or humid conditions will never give you inefficient performance.
You can control the speed of the spool, in and out quite efficiently with the remote controller. Although it is relatively small in size and has a lot of pulling power, it's easy to operate. This device is suitably designed to handle any winching task that can be installed in an ATV, UTV, Truck, or other sites.
Technical Information:
Pulling Capacity: 1,500 lbs.
Gear Ratio: 262:1
Brake: Mechanical Automatic
Switch: Handheld remote control on 12′ lead
Motor: 1.0 HP 110/120 Volt AC
Summary
This electric winch is pretty helpful for those who want to handle lifting tasks like a pro in a garage, automotive shop, or marine purposes. It efficiently withstands severe conditions with robust construction. The unit is versatile and delivers efficient service during extensive use of it. With several exclusive features, you can pull heavy loads without trouble.
2. NEWTRY 110/120 V Electric Hoist: Best for Versatility
Versatility is the best word to explain the NEWTRY 110/120 V Electric Hoist. Whether you need to lift irregular or regular items, this 110/120 V Electric Hoist will be your best companion for sure. You can pull or lift heavy objects like trees, stones, or engines without much effort. Mount it horizontally or vertically in attics, garages, barns, or ceilings.
A universal motor of 1,500W powers the winch, which can lift 1,100 lbs of weight really fast. While lifting an item may create loud noise which is okay for the job sites it usually comes into play. Plus, as it's 110V compatible, you can plug it into a regular plug and start working.
The winch is equipped with many safety features. Its upper and lower buckle rotates at 360° for ease of use. While rotating, sudden falling is prevented with the help of a safety buckle. Moreover, the steel rope is galvanized for optimum durability.
When the rope reaches the limit position, the safety hammer automatically powers off, effectively protecting the fuselage safety. Included motor allows it to work for 2 hours without a break. Then give it a 20-minute break for the best performance.
High-strength industrial aluminum material is used to build the gearbox case to enhance long-lasting performance. Also, its heat dissipation is faster than other electric winches since it is made with advanced manufacturing technology.
The hoist tension confirms strong stability and high working efficiency. Another interesting feature is the unit comes with a 2 method system: manual and cable remote control. You can choose between the operating method as per your requirement. With the manual method, lift anything up to 25 ft. The remote control will let you pull things a maximum of 22.5 ft.
Its small design lets you store the winch anywhere. There is a dust cover, preventing dust from entering into the device. Also, it features an indicator light that warns an operator if the winch is overloaded. The device has a convenient carrying handle for easy transport.
Setting up and operating the process is incredibly easy. Simply plug it into an American Standard plug with a 110/120 V voltage rating.
Technical Information:
Pulling Capacity: 1,100 lbs.
Item Weight: 22 lbs.
Voltage: 110 V
Control Method: Manual and Cable Remote Control
Material: Steel
Summary
This winch will surely deliver the best result if your project requires versatility. The 1500 W strong motor lifts 1,100 lbs. things to 25 ft. 16 ft. min. lifting speed is also good enough to deliver reliable performance. Also, the long wired controller facilitates you to control it from closer and away whatever you are pulling or lifting.
3. VEVOR 110 V Electric Hoist: Best Lightweight
Do you need to frequently move into your job site to lift or pull things? Get the VEVOR 110 V Electric Hoist and carry it easily for its lightweight feature. It is exceptionally lighter with 7 lbs of weight than winches of its price range. This 110 V electric winch lifts wood, engines, shop equipment and tables easily, eliminating the chance of climbing cranes or ladders.
A high-quality copper motor and radiator fan provide strong power and cooling performance. The housing is done using aluminum alloy, making it durable and corrosion-resistant. While operating, the electric winch doesn't create much sound without compromising efficiency. Thanks to its immediate cooling effect, ensuring a long-term use.
The device meets and exceeds the requirements of different applications. You can use single and double lines in this winch according to your project needs. When using a single line, it lifts 660 lbs. On the other hand, when the double line is installed, it can lift 1320 lbs. effortlessly.
Each part of the device is made of premium materials. You will get many years of proficient service from it with an aluminum alloy house premium alloy steel hook. An item will never fall off accidentally because the durable hook confirms safe pulling or lifting. The housing is powder coated, making it waterproof.
Another safety feature of this winch is the limit switch. The functionality of the electric hoist gets prohibited when the safety hook touches the limit switch. This means the machine stops working due to overloading. Additionally, the anti-rotate steel wire is zinc coated, preventing twist-off performance.
Versatile use is another impressive feature of this winch. Install or mount it in your garage or mining areas, or for industrial purposes regardless of the weather conditions. Moreover, being lightweight, transporting it from one place to another will never be troublesome.
You'll get a wireless remote controller to control it from a safe distance, reducing accidents. An emergency stop button shuts off the device when you need to power loads up and down. Even you will not face trouble using the remote controller in a harsh environment because it has a waterproofing cover.
Technical Information:
Pulling Capacity: 660 lbs. (Single Cable), 1320 lbs. (Double Cable)
Item Weight: 7 lbs.
Material: Alloy Steel and Aluminum Steel
Motor Voltage: 110 V
Motor Power: 1200 W
Summary
This well-manufactured electric winch is available with several features to meet your different lifting requirements. You can use a sling of either 660 lbs. or two for 1320 lbs. as per your need. It will give you the best performance every time to complete your daily job site project or daily chores.
4. VIVOHOME 110 V Electric Winch: Best for Durability
The robust design makes the VIVOHOME 110 V Electric Winch exceptional from its competitors. The user-friendly control system is also an appreciated feature that will not let you sweat when operating. Hanging up any things is much easier in this 110 V winch. It is one of the best options for home renovation, workshop, garage, etc., designed to make your life a lot easier.
When it comes down to durability, this winch is a CHAMPION! The shell is made of rugged steel, giving it a vigorous look. Moreover, premium-strength carbon steel cable doesn't twist and is durable to provide an extended period of service.
Dual-cable operation is also convenient with its sheaved pulley lift hook. In addition, the incredibly powerful copper motor offers high power to lift 1320 lbs. comfortably. For the motor quality construction, it dissipates heat pretty effectively.
The outer casing is made of heavy-duty steel, resisting rust and less prone to wear and tear when a heavy load is provided. As a result, you can use it for lifting things in the marine industry. Moreover, it generates low noise while operating since the gear is built with high-quality material. Safe operation is confirmed because the cable doesn't get overheated.
With the help of the dual-line mechanism, you can conveniently lift 1320 lbs. up to 19 ft. at 16 ft./min. On the other hand, single-line capability lets you lift 660 lbs. of weight maximum of 38 ft. at 33 ft./min. This means pulling or lifting heavy items will never be a difficult task. With decent enough lifting speed, a project can be achieved within a short time.
The built-in safety braking structure shuts off the machine when overload is detected. So, the accidental fall of the objects will never happen. Installing, mounting and storing the device is effortless for its compact design.
A remote control panel makes the operating mechanism a breeze. Manual effort is unnecessary since the crane makes the lifting or pulling process convenient and easy. Its advanced design, professional appearance, and easy-to-setup feature allow you to efficiently achieve lifting tasks in your garage, workshop, or other areas.
Upon buying the product, you will get a 6.5-ft lift sling strap and a shaft belt. Both items are made of polyester. This way, they prevent shocks and keep you safe from injuries. It is lightweight too for comfortable carrying in different places.
Technical Information:
Pulling Capacity: 1320 lbs.
Item Weight: 42 lbs.
Item Diameter: 4"
Item Shape: Cylinder
Exterior Finish: Stainless Steel
Summary
The VIVOHOME Electric Winch makes daily pulling and lifting tasks simple. User-friendly control improves usability and reach. Also, it helps you to finish your task like a PRO. Durable construction, rugged motor, and quality coating serve the user as expected in the long run. Overall, the hoist itself is tremendous, and easy-to-use means an easy life.
5. Mxmoonant 110 V ½ Ton Electric Hoist: Best for Control
Are you handling too many heavy-duty lifting tasks? Just leave it to the Mxmoonant 110 V ½ Ton Electric Hoist. This electric hoist is designed for various tasks in garages, construction sites, industrial areas, and homes. The 110 V feature allows you to plug it into a regular home power source and help you lift heavy items like lawnmowers, truck roofs, engines, trees, etc.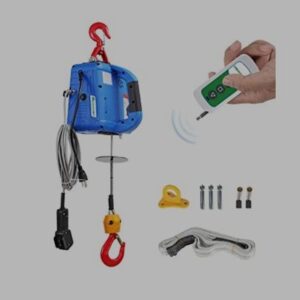 There are 3 controlling methods on this winch: remote control, line control and manual control. Traditional 3 operating systems allow a beginner to use the winch with ease. A combination of the controlling system offers improved control and supports you in any lifting task.
In terms of efficiency, its maximum lifting weight is 1100 lbs with a lifting height of 25 ft. The unit lifts an item in 16 ft./min. So, when working on a construction site, handling the lifting task will be sweat-free and efficient.
Your different usage requirements with the help of a robust hook that rotates up and down 360-degree. With 22 lbs of weight, it is easy to carry around. Besides, a safety buckle in the top hook is set to prevent it from falling off.
A high-quality aluminum quenching gearbox has the heat-dissipation capacity, ensuring the motor is stress-free after several hours of continuous usage. This completely water-proof model delivers efficient service on rainy days, wets, or dump conditions. A long enough extension cable ensures optimum use and high accessibility.
Rotating or twisting the rope is annoying and reduces efficiency and productivity. You will be pleased to know that the rope in this hoist is made with galvanized steel which will never twist or rotate when working. Galvanized steel rope is perfect for highly abrasive terrains like mud, sands, and rocks and is less prone to fraying.
A safety limit device is installed in the electric winch. This safety device is responsible for detecting the overload and triggering the power turn off in the event of an overload. At the same time, it prevents the misuse of overcapacity lifts. The motor is wounded with multiple series copper wires, guaranteeing the highest power to achieve any lifting task quickly.
Technical Information:
Pulling Capacity: 1,100 lbs.
Packaging Size: 15"X12.6"X9.8"
Item Weight: 22 lbs.
Voltage: 110V, US Plug
Control Method: Manual Control, Line Control, Remote Control
Summary
All that power, build quality, and excellent design guarantees come at an affordable price tag. This is a well-efficient model with significant pulling power for ease of use. 3 different controlling methods help you keep controlling the device perfectly all the time. Overall, this is a high-quality electrical winch that will be helpful in nearly any situation you find yourself in.
6. Happybuy 110 V Lift Electric Hoist: Best for Home Use
The Happybuy 110 V Lift Electric Hoist is built for home use with 440 lbs. of pulling capacity. It lifts building supplies, transmissions, and small engines with the help of its 2 lifting modes. This winch hook is equipped with safety latches preventing different hazards. With a 110 V circuitry, it is an ideal electric hoist for home use.
You can use this home winch in both single-line and double-line capacity. When used single-line, it can lift or pull 220 lbs. weight, and with dual-line, the winch will allow you to lift 440 lbs. easily. The built-in 500 W motor provides the required power in the lifting or pulling project. Large load-bearing allows the electric winch to meet various needs on hardness and strength.
Controlling the device is incredibly effortless with a wired remote control. Roughly 4.3 ft. cable length lets you control the device from a safe position. The motor doesn't generate much sound. So, you can concentrate on your job, and an efficient outcome is confirmed. Ascending and descending button is precisely positioned for your convenience. You can work with the winch for an extended period without taking a break because it radiates rapidly.
This electric winch can be used in marine applications as it's rust-free and water-proof. Alloy steel and galvanized steel wire construction effectively resist rust, moisture, and corrosion. Even if you need to pull or lift things on a rainy day, this winch will be always your best companion.
Several safety features ensure the safe use of this winch. Galvanized steel wire, limit switch, and Mn-steel hook perform together to give you optimum protection when operating the unit. The steel wire cable offers twist-free performance. Moreover, the limit switch gets activated when the red block touches it and prohibits overloading.
You won't experience a hard time installing the device. All the required accessories are included with the winch for an easy installation process. Install it wherever you want, and you won't have to call a professional. The metal fixing ring is adjustable, anti-corrosion, and not easy to break.
Another worth-mentioning feature of the electric winch is the large radiator fan. The responsibility of the fan is to keep the device cool when used for an extended period. At the same time, it ensures protection from overheating. Also, the fan assists the motor to deliver high-efficient work and saves energy for the long run.
Technical Information:
Pulling Capacity: 220 lbs. (Single Line), 440 lbs. (Double Line)
Item Weight: 24 lbs.
Material: Cast Iron & Aluminum
Power: 450 W
Finish Type: Finished
Summary
The winch is great and performs efficiently on different home lifting or pulling projects. It will eliminate the work of carrying (pushing and pulling) the totes up and down the attic stairs. Ruggedly constructed galvanized wire steel cable completes many tasks without showing inferior performance.
7. Taishi Portable 110 V Electric Winch: Best for Portability
The Taishi Portable 110 V Electric Winch is a towing and hoisting power tool widely used in construction, agriculture, machinery, auto repair, fisheries, and other fields. It generates 1,100 lbs of tension with a 110V AC power source. And the best part is, it's super compact and lightweight, thus being easy to transport from one place to another.
It's a small and portable winch with only 20.6 lbs of weight, offering maximum usability in any place. The hook rotates freely in any direction with a 360° hook connector. Also, the snap design prevents loosening and accidental falling of the items. For safe and reliable applications, it is one of the best options.
High-strength aviation level zincification steel wire rope lets users lift heavy or bulky items. The rope is 80% lighter compared to steel wire. You will not see the development of rust or sharp burrs in this rope type.
It is abrasion-resistant and offers more potential energy when lifting or pulling. However, we recommend you wear safety gloves when handling the rope. Simultaneously, the thickened steel wire rope makes it not easy to rotate and break, which is more secure for hoisting.
Transporting the device to your job site or other required areas is effortless with this hoist. The device comes with a convenient handle on the top that lets you grab it with one hand easily. Highly productive, and the basic function of this winch machine is designed to pull and lift the load to great heights.
An incorporated limit switch is available in the device, cutting off power automatically when ascending close to the limit position. This means the device is overload protected as well. The chance of accidental falling off is 100% protected with this feature. Also, you can avoid major dangerous accidents or injuries.
The device comes with 3 control ways: wireless remote control, manual control and line control. You can control the hoist through walls within 82 ft. Overall, the wireless controller's range is 200 ft., guaranteeing safe operation from a certain place. It is suitable for light to medium-duty tasks at home, garage or construction sites.
Hooks at both sides promote easy installation. In fact, taking assistance from any specialized tool for installing purpose is unnecessary. Additionally, a strong braking mechanism protects the cable from slipping.
Technical Information:
Pulling Capacity: 1100 lbs.
Item Weight: 20.6 lbs.
Item Dimension: 13.6"X10.5"X10.35"
Power Supply: AC110V / 60Hz
Material: Steel Wire
Summary
The electric winch is highly appreciated among users for its extreme portability. With quick pull speed, it saves valuable time, effort and money. The included remote control makes the operation process significantly easy to give you an excellent lifting experience. In addition, its compact design doesn't require much space to install or store.
8. ANBULL 110 V Portable Electric Winch: Best for Construction Sites
The ANBULL 110 V Portable Electric Winch is equipped with a 1500 W copper motor, delivering reliable service for many days. It consumes low power and has imported bearing, making it ideal for construction sites. There are 3 controlling methods: manual, wired, and wireless remote lets you operate the winch with less time and effort.
Due to its small size, it is transportable and convenient. High-strength hook rotates 360° for your convenience. Rubber-constructed wired remote control comes with a safety buckle design. The controller is anti-dropped, so no damage happens to the remote control during accidental falls.
Additionally, the copper motor delivers 1500 W power for efficient working. The motor is strong because it features heat dissipation and has opposite ventilation. Both features combine and help the motor to perform longer. The ventilation also confirms safety and supports the motor for prolonged working.
It includes an indicator light when there is no problem with the electric hoist, the light appears green. On the flip side, if something goes wrong with the device, a red color appears on the indicator, stopping the winch right away. Also, it features a limit switch that shuts the machine off in the event of overload.
Anbull has used thick galvanized steel wire rope which is thick, solid and doesn't break easily. Moreover, you will not experience fraying and twisting when operating the device. Instead, a pressing version is added to the design of the rope. Thus, the rope will not be separated or scattered during use.
Overall, its controller is fall-proof, not easy to break, has high-temperature resistance, and is easy to operate and special steel forging. You can operate cargo from anywhere and anytime. It is because the controller supports up to 60 M. However, it is recommended to work with the device for a maximum of 20 minutes to get efficient performance.
You will always have an excellent winching experience with this winch. The 3-in-1 controlling method makes the operating process so simple. The hooks are well-designed for different applications. All in all, it helps you with installing air conditioners, goods delivery, home renovation, etc.
This winch hook features one key lock mode unique design. The mechanism avoids damage to the cargo and personal injury caused by the slippage of the hook when you lift the cargo.
Technical Information:
Pulling Capacity: 1100 lbs.
Item Weight: 22 lbs.
Material: Rubber
Rated Voltage: 110 V / 50 Hz
Motor Power: 1500 W
Summary
The BULL electric hoist comes with a solid appearance and can bear 1100 lbs. without difficulty. A carbon brush motor offers the necessary power to pull or lift things quickly. Indicator lights and limit switch protects the machine by detecting the overload and stopping the functionality. The device is built to last.
9. BEAMNOVA 3 in 1 Portable Electric Hoist: Best User-friendly Design
Adapt to multiple lifting and pulling needs 3 control methods: wired control, wireless remote control, and manual control. The Beamnova 3 in 1 offers just that. The range of the wireless remote control is 328 ft. while the wired controller is industrial-grade and impact resistant. If you want a 110V electric hoist with user-friendly design, this is the one you want.
This electric hoist has a copper core motor that comes with good thermal and electric conductivity. Simultaneously, its motor force is impressively high, allowing the winch to pull or lift anything quite easily. Heat production is also less when the motor works, confirming long-lasting performance. Additionally, voltage loss is low on the motor; this means consistent result performance is guaranteed.
It weighs only 22 lbs., which is much lighter compared to other conventional pole-mounted or ceiling-mounted winch. The crane has a side handle for easy lifting when necessary. Moreover, the compact design lets you store and carry the unit in the car trunk.
The installation method doesn't require any specialized tool. There is a hook on the top of the winch for easy hanging on any pole. Moreover, you can remove it anytime whenever needed. After mounting, you can use it to carry 1102 lbs.
It uses heavy-duty and high-load bearing wire rope for smooth pulling or lifting. Moreover, the manganese steel hook rotates 360 degrees for working convenience. A protective sleeve and spring in the hook protect key parts of the wire rope from damage.
With a safety buckle design, there is no chance of accidental falling. In addition, the winch cuts off automatically when the stopper is triggered. This feature confirms safety while operating the device. It has side cooling holes that keep the motor cool and promotes machine efficiency.
Indicator light and dust cap are one of the exceptional features of this electric hoist that you will love for sure. The dust cap prevents dust from entering the machine. Moreover, the device comes with green and red indicator lights. Greenlight guarantees safety. On the flip side, red light indicates something wrong with the device.
Technical Information:
Pulling Capacity: 1102 lbs.
Material: Aluminum and High Carbon Steel
Voltage: 110 V
Wattage: 1500 W
Item Weight: 22 lbs.
Summary
You will barely find a winch more user-friendly than this one with so many features at this price range. A beginner will not face trouble working with it for its easy installation, effortless operating process, and convenient carrying handle. A professional can also finish light to medium-duty lifting and pulling tasks taking assistance from this hoist.
What Things You've To Consider While Choosing the Best 110 Volt Electric Winch?
The market is full of different electric winches; it is expected that you would become confused while choosing one.
Making a buying decision would be easier for you if you consider the below factors.
Material Of The Cable
Cable type is one of the most important factors because the overall performance of the electric winch depends on the cable material. Most cables are either made of steel or synthetic. Whatever material type you choose, make sure it is reliable enough in terms of performance.
You can easily pull or lift a heavy item with a solid and rugged cable. Synthetic ropes are budget-friendly and durable. Also, when synthetic ropes are braided, durability and loading capacity increase.
While steel ropes are well-known for their heavy-duty performance and impressive pulling capacity. If you decide to go with steel cables, make sure it is well-galvanized to resist corrosion and rust.
Pulling Capacity
The maximum lifted or pulled weight is considered the pulling capacity of an electric winch.
A good quality electric winches pulling capacity range is 1000 lbs. – 1500 lbs. of weight. With this range, you can pull or lift construction supplies, home renovation items, air conditioners, different items in the garage and many more.
However, the pulling capacity should match your project requirement. So, before deciding on a model, learn how much weight you need to lift or pull in your job site.
Mounting Mechanism
The mounting system is another significant factor to consider. Since your selected item will have to lift 1000 lbs. to 1500 lbs. of weight, the winch must be installed on a reliable surface to avoid accidental fall.
Most models come with a mounting base with holes so that you can bolt the winch comfortably on a surface. At the same time, make sure heavy-duty material is used to manufacture the base to avoid breaking when winching.
Length Of The Cable
In most cases, the length of the cable depends on the plan of using the winch. If you plan to use the winch from a long distance, choose long, heavy-duty and durable cable. In this case, 10 ft. cable length is good enough for flexible operating.
User-Friendliness
Modern winches are designed to make your lifting or pulling task easy. They also feature user-friendliness.
Select a model that is easy to use. Generally, manual and wired control options are found in most winches. Some models feature wireless remote control along with the other 2 controlling methods. All these methods allow a user to operate the machine efficiently.
Frequently Asked Questions
Can a 120V winch be converted to 110V?
There is no solid difference between 120v and 110v as they're both the same in the US. You can easily use a 110V rated winch in a 120v rated outlet. If you do not have a 110V power source, you can also use a converter to convert the 120V to 110V, which would then be compatible with an electric 110V winch.
How long does an electric winch last?
The lifespan of an average electric winch depends on its usage and maintenance. A good electric winch lasts 3 – 5 years with regular maintenance and good working conditions. You need to keep it away from rust, water, and overload.
Are electrical winches waterproof?
Yes, electrical winches are waterproof. Electric winches cable ropes are coated with galvanizing, making them water-resistant. Also, aluminum is used in the motor housing, and the wired remote control is made of rubber or other waterproof materials for the longevity of the winches.
How fast are electric winches?
Generally, the average pulling speed of an electric winch is 1.5 meters/minute. Remember, the faster you want to work with your winch, power consumption will be higher.
How many amps does it take to run a winch?
Although, the consumption of electric winch is 150 – 200 amps. But they don't run for an extended period. A premium quality electric winch runs not more than 20 minutes without a break.
Summing Up
If you need to handle pulling and lifting tasks too frequently in the garage, industrial and construction sites or at home, the winch will make the task comfortable. We hope, the buying guide above helped you pick your model of choice.
If you want our top pick ad the best 110 volt Electric Winch, that would be the KEEPER KAC1500 110/120V Electric Winch. It is a 110 volt AC-powered electric winch suitable for garage and workshop use. This electric hoist has a powerful motor, allowing you to pull or lift 1,500 lbs. of weight quite comfortably. Its galvanized wire rope is robust enough that delivers efficient performance regardless of the weather and working situations.
Recent Posts